The 1927 GMC/Julies Pearse was the first motorized firefighting piece purchase by the Town of Berthoud. It was purchased from the Julius Pearse Fire Department Supply Company, located in Denver, Colorado. The total cost of the apparatus and related equipment was $3,987.08, or $58,673.00 in today's dollars, a hefty amount for a town the size of Berthoud in 1927. The cab and chassis were ordered from Bonnell Buick Company in Loveland and drop-shipped to the Julies Pearse company on Arapahoe Street in Denver on October 5, 1927.
The equipment list included lanterns, axes, a crowbar, hand extinguishers, a 20' extension ladder, roof ladder, pike pole, spanner wrenches, hose, and nozzles. The truck specifications included a mounted search light, locomotive bell, crank siren, a 40-gallon chemical tank with hose, and a fire pump rated at ten GPM @ 120 PSI per horsepower furnished by the truck motor.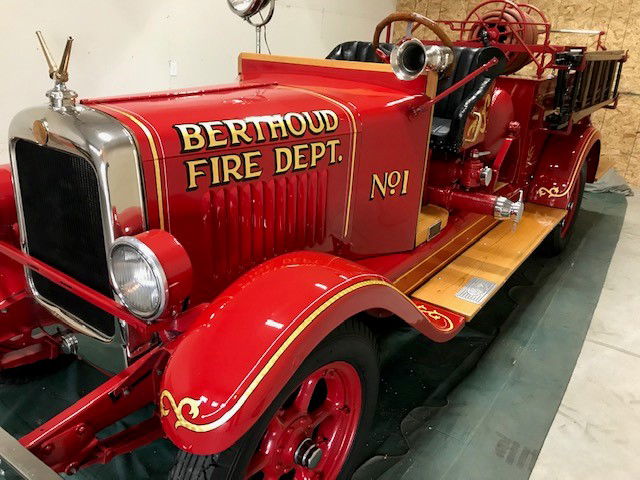 This fire truck replaced the hand-pulled hose cart that was purchased in 1888. The 1927 fire truck services as the front-line firefighting unit for the community until a new truck was ordered in 1953. The truck was then moved to reserve and later retired from active service and used by the volunteer firefighters to compete in the regional fire department race team competitions.
As the Town of Berthoud's centennial approached in 1987, the volunteer firefighters dismantled the body from the frame of the truck and had the body restored and repainted for the 1988 Centennial Parade. The truck has been seen since in numerous Berthoud Day parades and civic events. In 2019 the retired Berthoud firefighters formed a nonprofit, the Caretakers of Tradition, with the intent of restoring the hose cart and the 1927 fire engine. We were fortunate to receive a sizable memorial from a deceased firefighter's family which enabled us to accomplish this. The restoration on the truck required all four fenders to be removed, along with the cowl. These pieces required body work and repainting with, the final touch being the replacement of the goldleaf and pinstriping. The Caretakers of Tradition continue to search for era correct tools and equipment to compete the restoration in its entirety.